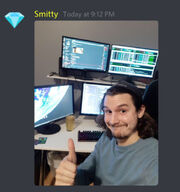 Smitty is the developer and owner of the Diamond Hunt games. We don't know much about him, but what we do know is listed here.
Personal:
He is Canadian.
Voice reveal can be viewed in his DH2 Podcasts.
He has a Twitch channel, which can be viewed at https://www.twitch.tv/smittttty
His birthday is April 8th.
Diamond Hunt:
He loves to team up with rngesus to wreak havoc on the luck of Diamond Hunt players.
He has a hardcore account in Diamond Hunt 3.
Smitty doesn't have time to design the game assets, so most of the images are public domain images. Because of this, several elements are present in different games of the Diamond Hunt franchise.
Discord:
His discord name is smitttty, although in the Diamond Hunt Discord Server his nickname is Smitty.
His discord tag is smitttty#7795