Combat is a skill where the hero, in which you can equip items on, fights against several monsters that can be found in many areas. The point of fighting these enemies is to obtain specific items that may help the player advance levels, such as getting Combat XP or monster loot.
Players control and aid the hero in combat, using many different techniques. Using the ability to equip and unequip items such as armors, weapons, and magic, players can help the hero defeat harder monsters and gain combat XP. Each monster grants a different amount of Combat XP, depending on the monster. If you have combat research perk #1, each combat level will grant the hero one extra health point, with a max of 109 (+5) and a base of 9 (+1) HP.
After your hero either fainted or won a combat battle, you will have a cooldown. This varies where you just fought. Combat cooldown can be sped up by the Combat Cooldown Potion. A Cooldown Reset can be used once every 24 hours, after obtaining the medium combat research perk.
The formula for hit chance when defence is an even number is:
   HitRate = 1 / Maximum(1, Defence / 2 - Accuracy + 1)

For odd defence, it is the average of the hit rates when defence is 1 higher and 1 lower.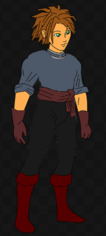 Community content is available under
CC-BY-SA
unless otherwise noted.